Bangkok Advanced Toastmasters Club is part of Toastmasters International , a public speaking organization focused on developing and improving communication and leadership skills.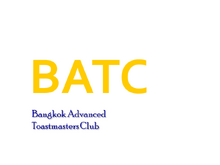 Bangkok Advanced Toastmasters is one of around 40 Toastmasters clubs in Thailand , 25 clubs in the Bangkok area , and the only advanced club in Thailand .
Thailand is part of District 97, and was previously District 80 and before that, District 51 .
Bangkok Advanced Club is unique in several ways:
First, speakers don't just do speeches once.  Bangkok Advanced is the only club in District 97 which does echo speeches and déjà vu speeches .  That is, repeating speeches on the day or in consecutive meetings.  Second, each meeting is unique.  Bangkok Advanced may have a meeting of impromptu speeches only, echo evaluations, revolving Toastmaster, or five icebreakers.  This prevents the meetings going stale, and presents a different and exciting challenge every meeting.  
Third, Bangkok Advanced runs training seminars and contests with other clubs in Thailand, and often has combined meetings to develop synergies with other clubs to improve and to help others improve.  
Members of Bangkok Advanced also take on leadership roles with District 97. 
Echo and déjà vu speeches
Edit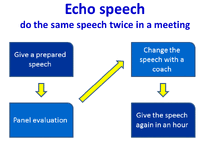 One of the big drawbacks of the Toastmasters system is that we tend to do a speech once and forget it.  This isn't the way professionals work and isn't the way to become professional.  
Bangkok Advanced Club bridges the gap between the normal Toastmasters approach and what speakers need to become professional presenters.  That is, members do speeches again and again, with in-depth feedback from panel evlauators between each presentation.
The club has two main methods of repeating presentations: Echo speeches (repeated at the same meeting) and déjà vu speeches (repeated at subsequent meetings).
Ad blocker interference detected!
Wikia is a free-to-use site that makes money from advertising. We have a modified experience for viewers using ad blockers

Wikia is not accessible if you've made further modifications. Remove the custom ad blocker rule(s) and the page will load as expected.