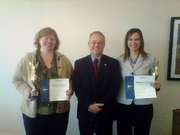 The City of Columbus Toastmasters Club is a community club located in Columbus, Ohio.

Meeting at two locations - one in Clintonville at the Citywide Testing Center at I-71 and North Broadway, and the other in Olde Towne East at the City of Columbus Department of Public Health - the club is open to the general public for membership, but is sponsored and supported by the City of Columbus Human Resources Department.

Founded in June of 2010, the club has been experiencing significant growth since mid-2011, and achieved President's Distinguished Club status in 2011-12. In 2012-13, it is home club to three Area Governors.
The club is active on the internet, as well, with a strong presence on Twitter, Facebook, YouTube , and LinkedIn, and a highly individualized website designed to increase member interest and participation as well as reach out to the general public.

The officers and members of the City of Columbus Toastmasters Club believe strongly in improving themselves and others, with the motto "Achievement Through Service."

In 2012, members of the City of Columbus Toastmasters Club swept the Area 16 International Speech and Evaluation Contests.

The City of Columbus Toastmasters Club is club #1423343, and is located in District 40, in the Hillside Division, Area 71.
Ad blocker interference detected!
Wikia is a free-to-use site that makes money from advertising. We have a modified experience for viewers using ad blockers

Wikia is not accessible if you've made further modifications. Remove the custom ad blocker rule(s) and the page will load as expected.