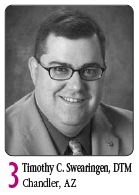 District 3 Toastmasters serves 160+ Toastmaster Clubs and 3500 members in Arizona USA. The 2005-2006 District Governor is Tim Swearingen, DTM. The LGET and LGM are Mick Fetty, DTM and Brenda Bird, DTM.
The District 3 Website URL is http://www.aztoastmasters.org/
District 3 Spring Conference
Edit
The Spring 2006 District 3 Conference will be held on May19-20, 2006 atSan Marcos Resort, Chandler, AZ. The Conference features the Wyatt Earp Dinner Show and Tall Tales Contest on Friday night and Educational Sessions, Hall of Fame Luncheon, evening banquet and International Speech Contest on Saturday.
Click here for additional "up-to-date" District 3 Spring Conference Information.
The Divisions of District 3
Edit
Division C - Cholla
Edit
Division G - Gila
Edit
Division P - Paiute
Edit
Division R - Rio
Edit
Division S - Sonoran
Edit
Division Y - Yavapai
Edit
Newsletter: The Roadrunner
Edit
The Roadrunner is District 3's award-winning quarterly newsletter.
---
---
Ad blocker interference detected!
Wikia is a free-to-use site that makes money from advertising. We have a modified experience for viewers using ad blockers

Wikia is not accessible if you've made further modifications. Remove the custom ad blocker rule(s) and the page will load as expected.