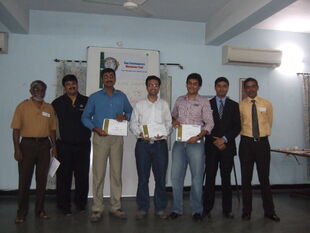 Élan Toastmasters Hyderabad is a club affiliated to Toastmasters International. Toastmaste
rs International is a 87-year old, worldwide community for the development of communication skills, public speaking and leadership skills. Members learn from each other and help others improve their communication skills in a friendly, non-stressful and encouraging environment.
About Elan & Elanites
Élan Toastmasters Hyderabad provides an encouraging and friendly environment for developing your communication and leadership skills.
The club is a friendly group of individuals who come from different walks of life. Members include Entrepreneurs, IT professionals, Students, Soft skills trainers, Academicians, Housewives etc.
We boast of:
1. Highly experienced and seasoned toastmasters who have several years of experience in public speaking. These public speakers who started off as new members have developed into inspirational figures that many look up to. They give speeches at National and International Contests. Such experienced members are chosen to be mentors to other members.
2. Energetic members who have tasted a considerable amount of success in their quest to become effective speakers. They are highly motivated to learn and pick up new communication skills. New members easily connect with them.
3. New and enthusiastic members are regularly and frequently mentored by the experienced members of our club. The experienced members can understand the challenges faced by the new members like fear of public speaking, trouble choosing a speech topic, etc and help them in their journey of becoming effective in communication and leadership skills.
The Public Speaking process
Each member is assigned an experienced and friendly mentor. The mentor evaluates and understands the competence level of new members and recommends a concrete plan to improve the communication skill levels of the member. The mentor is also responsible for the skill growth of the member.
The member can choose to listen to as many speeches as s/he wants before giving his/her first speech. Each member is given manuals on public speaking. These are valuable resources developed by top public speakers with years of practice and knowledge. By applying the suggestions from these manuals members learn how to manage stage fear, use body language (non-verbal communication), speak fluently, improve grammar and vocabulary, organize the speech coherently, captivate the audience and develop effective communication skills.
Honors and Awards
At the end of every meeting certificates and ribbons for "Best Speaker", "Best Impromptu Speaker", "Listener of the Day" etc., are handed over.
Attend one of our meetings and see for yourself!
You may attend our meetings as a Guest at:
Educare English Hub 2nd Floor, Opposite Vijaya Bank, Rajeev Nagar, (Above Nilgiris Supermarket), Hyderabad.
You may call Gopinath, Vice-President – Education : 99 898 – 80 557 or drop an e-mail to elan.toastmasters@gmail.com.
To know about our next meeting visit us at www.meetup.com/elantm
Ad blocker interference detected!
Wikia is a free-to-use site that makes money from advertising. We have a modified experience for viewers using ad blockers

Wikia is not accessible if you've made further modifications. Remove the custom ad blocker rule(s) and the page will load as expected.