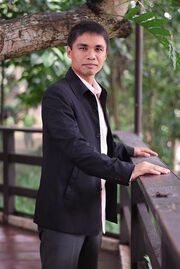 Jef Menguin is a leadership and personal development speaker in the Philippines. His talks are lively, entertaining, and full of practical principles. In his talks, he aligns individual and corporate needs to produce positive bottom line business results.
He is the Visionary Leader of Growth Orientors HR Training Consultancy, a people development company that helps high performing organizations build People Excellence culture.
A Distinguished Toastmaster, he has been coaching and mentoring people on effective communication and leadership. After ten years of teaching, in 2004 he decided to pursue his dream of becoming an inspirational and leadership speaker.
After seven years and more than a thousand speeches delivered and thousands of people inspired, Jef Menguin continues to educate, engage, and empower people in Asia through his personal leadership and organizational development programs. His is a story of a humble beginning. Using real life examples and experiences, Jef Menguin shows his audiences that anyone can reinvent his future. Jef Menguin is the incumbent Area 14 Governor of District 75.
Ad blocker interference detected!
Wikia is a free-to-use site that makes money from advertising. We have a modified experience for viewers using ad blockers

Wikia is not accessible if you've made further modifications. Remove the custom ad blocker rule(s) and the page will load as expected.