Mankato Toastmasters Club 175
Talk

0
503pages on
this wiki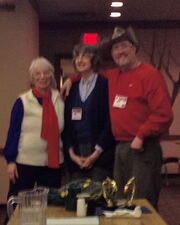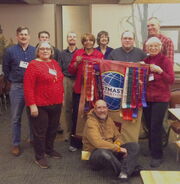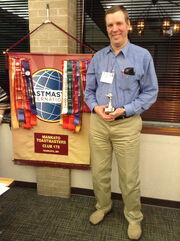 We had our International and Tall Tales Contest in February and the Contestants were Marilyn Bennett, Pat Jones and Cyle Gruver.  Looking forward to the Area Contest on April 11th which will be held at our club.
Mankato Toastmasters Club has had a very good year.  In 2011-2012 we won a distringuished Toastmaster Club award and this year 2012-2013 are on track to again win the award.  
We welcome anyone to come as a guest and we will guarantee you a good time and a learning experience. 
Our E-mail address is mankatotoastmasters@mail.com.
Mankato Toastmasters Club 175
Mankato Toastmasters Club 175 meets at the Happy Chef on Highway 169 every Thursday at 5:30 until 7 PM. We currently have 24 members of various ages and occupations. Our club strives to halp everyone improve their speaking skills and at the same time have a great time. Below is a photo of the members taken in September 2011. We tend to have fewer participants in the summer than in the winter due to vacations and other obligations of our members. We hope to take a picture this winter with the full compliment of members present.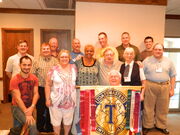 The Toastmasters Convention in April 2012 was held in the twin cities. It is always great fun to hear the winning speeches and meet toastmasters from other clubs.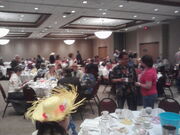 Right is a picture of some of the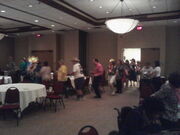 many people at the convention and left is of everyone doing a "traditional Hawaiian dance"
The Hokey Pokie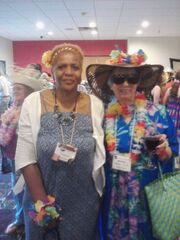 This is a picture of Trishauna Johnson and Marilyn Bennett of our club. Marilyn won first prize for best hat at the convention.
In case you haven't guessed there was a Hawaian Theme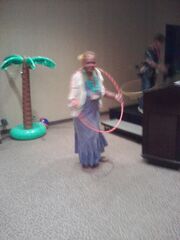 Trishauna Johnson performing in the Hoola Hoop Contest

For the march of the Toastmasters Banners at the convention breakfast Marilyn Bennett carried in our banner which is 
covered with all the winning ribbons that have been won by our club over the years.

We had our Annual Holiday Party December 15, 2011 and exchanged Whilte Elephant Gifts and each gift recipient gave a two minute speech about their "Christmas past". There were great Christmas stories and lots of fun for all.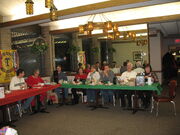 These are pictures of our group eating an opening presents.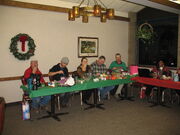 Trishauna Johnson was our Toastmaster.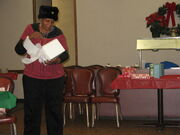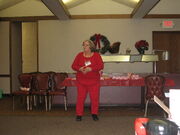 Jill Elliason was Santa's Helper
We all had a great time and got to know some of our Toastmaster's significant others and also each other in a more informal setting.,
We had our club contest September 8, 2011 and the following members participated:
Jill Elliason, Trishauna Johnson, Bernie McGuire, Marilyn Bennett and Cyle Gruver.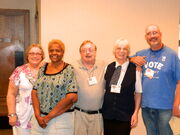 The winners of the contest were:
Trishauna Johnson and Marilyn Bennett
They participated in the Area Contest and came in second;

Below are the participants in the Area Contest