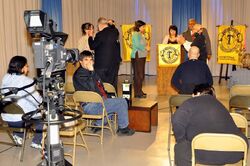 Toastmasters Bay to Bay
is a production of
District 4 Toastmasters
. The program is produced at the
Midpeninsula Community Media Center
in Palo Alto, a public access television studio. The program is 1/2 hour long and is broadcast on the Comcast cable TV system in Palo Alto, East Palo Alto, Menlo Park, Atherton, the Stanford university campus, and portions of unincorporated Santa Clara County. The show is taped monthly in a "live to tape" style, meaning there is no post-production editing involved--recording equipment is started, and is not stopped until the show concludes 1/2 hour later.
The most frequent format for the show features a host, 2 speakers and 2 evaluators. In between the two speech/evaluation pairs, there is a 3-minute video profile on a local club, filmed at the club and edited before the taping of the show. The video is produced as a promotional video for the club. There have been other formats for the show including educational tips, Table Topics, and a Talk Show format.
The show is broadcast at various times during the next month, and is uploaded to YouTube. The 3-minute "featurettes" are also uploaded to YouTube so the featured club can embed it on their website. District 4 maintains an [page which lists all episodes of the show for on-demand viewing].
Ad blocker interference detected!
Wikia is a free-to-use site that makes money from advertising. We have a modified experience for viewers using ad blockers

Wikia is not accessible if you've made further modifications. Remove the custom ad blocker rule(s) and the page will load as expected.