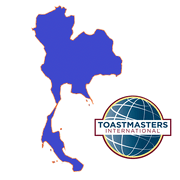 Toastmasters in Thailand begain in 1955 with the establishment of Bangkok Toastmasters Club, the first in South East Asia. The second club, Laem Thong, was established three years later. Since then, Toastmasters clubs have spread very slowly, reaching just 20 in Bangkok and 6 in the provinces by 2012.
Nearly all clubs in Thailand are English speaking. The first Thai speaking club was established in 2006.  
Around half the clubs in Thailand are community based, with the other half embedded in universities and businesses.
There is one Advanced Club in Thailand, Bangkok Advanced Toastmasters Club .  
Several clubs in Thailand are particularly multicultural, with Capitol Toastmasters Club in particular having past and current members from over 25 different countries.
Ad blocker interference detected!
Wikia is a free-to-use site that makes money from advertising. We have a modified experience for viewers using ad blockers

Wikia is not accessible if you've made further modifications. Remove the custom ad blocker rule(s) and the page will load as expected.